antique filing cabinet
Regular price

Sale price

€1.499,00
What in its day was an industrial filing cabinet, today can become the key to the success of your decoration.

DESCRIPTION

Its design, its original wrought iron fittings of the time and the warmth of its wood, will positively attract attention.
You can give it the same use that it was given more than 100 years ago or you can take advantage of it as storage furniture in your kitchen or dining room.
Its various compartments will help you keep order at bay. Have you noticed the originality of the drawers? They are removable and also, to facilitate their handling, they have a folding opening.
Wherever you look at it, it will captivate you!
Material AND FINISH

This versatile piece of furniture is made of walnut wood.
The key is functional.
MEASURES

Total measurements: 89.5 cm long x 50 cm deep x 220 cm high.
Other measures of interest:
Drawer measurements: 26 cm long x 39 cm deep x 8 cm high.
The upper left module is divided by dividers giving rise to compartments 23 cm long x 44 cm deep and 50 and 42 cm high respectively.
The shelf in the lower right compartment measures 38 cm long x 44 cm deep and gives rise to two storage spaces with heights of 44 and 47 cm respectively.
The shelves of the lower left module measure 48 cm long x 44 cm deep and give rise to spaces with a height of 27, 20 and 21 cm respectively.
SHIPMENTS

Free shipping. (Peninsular)
Shipped assembled. Make sure that the accesses to your home allow its placement inside.
Hurry, only 1 item left in stock!
Share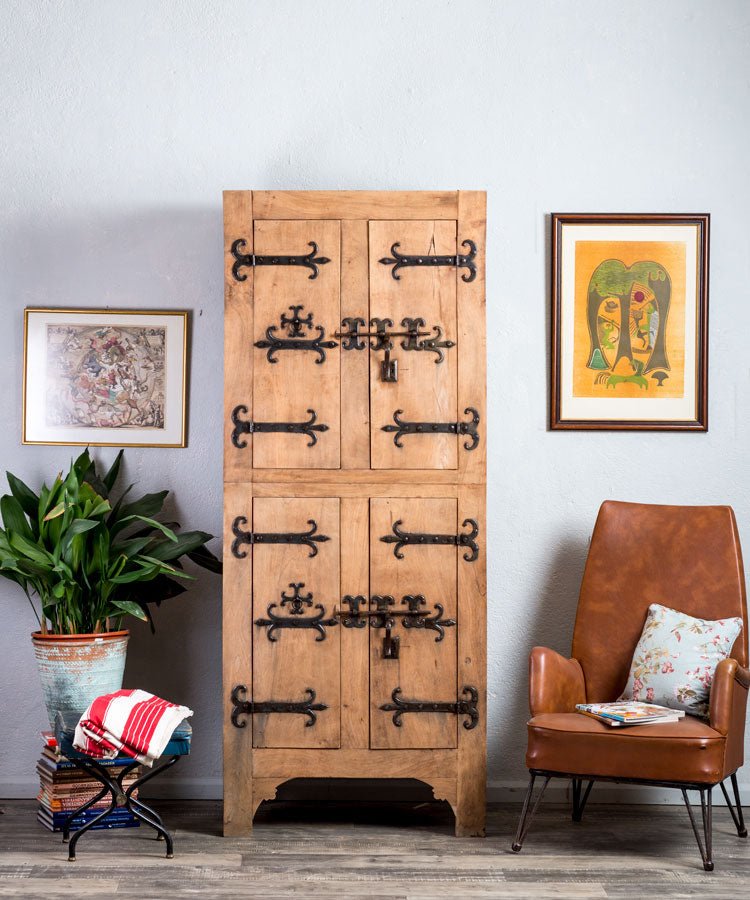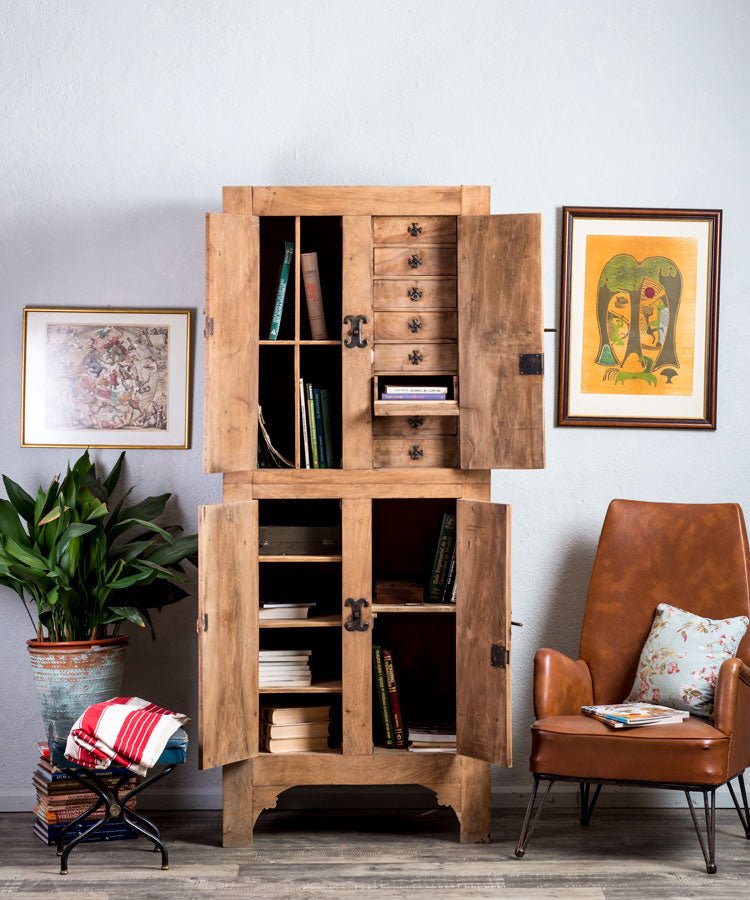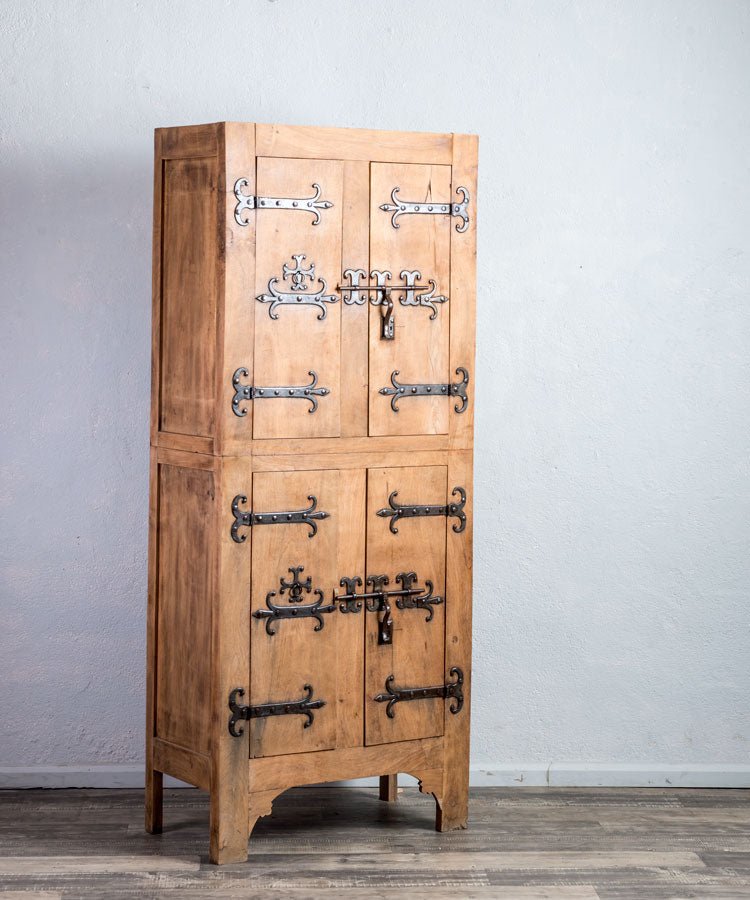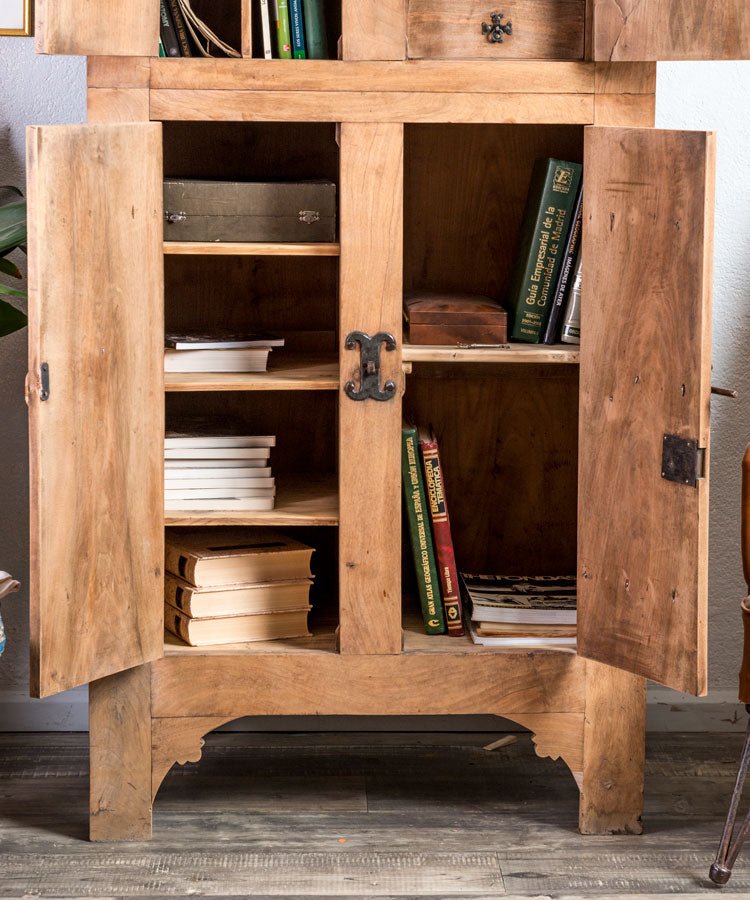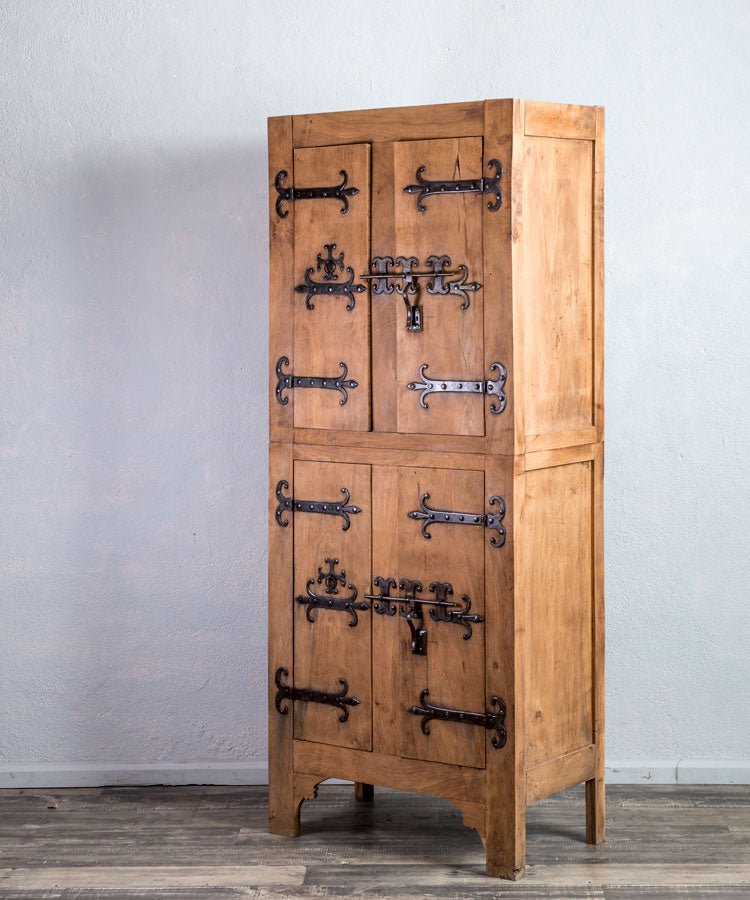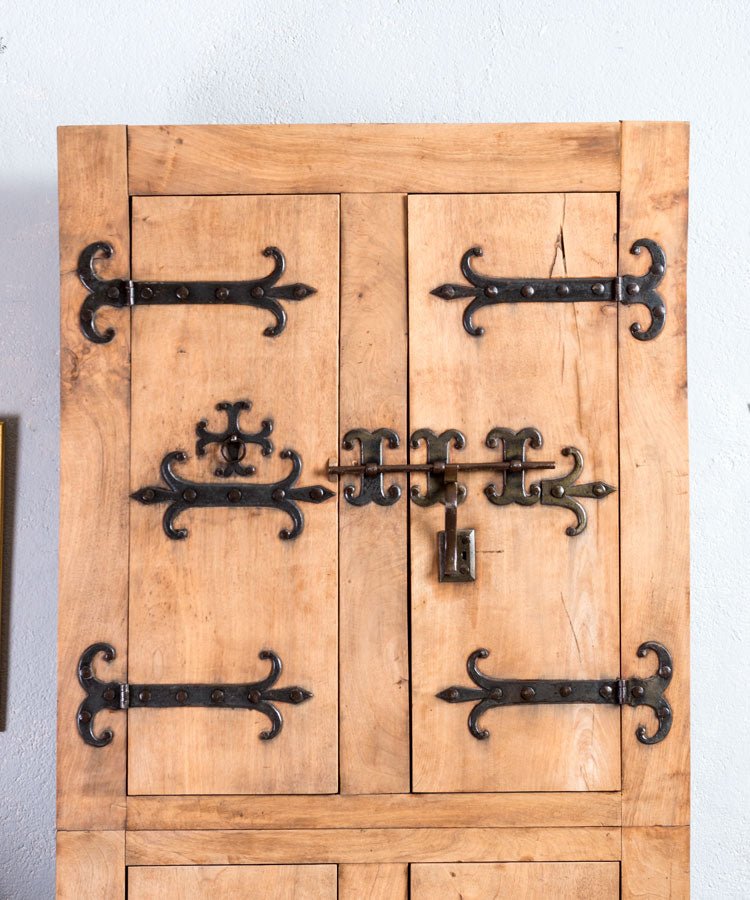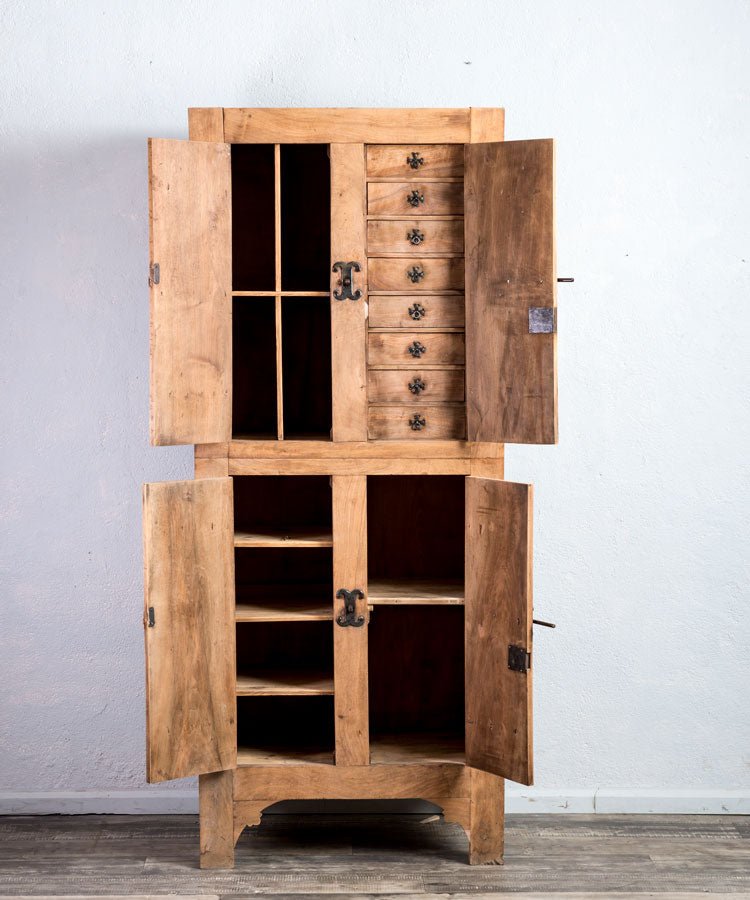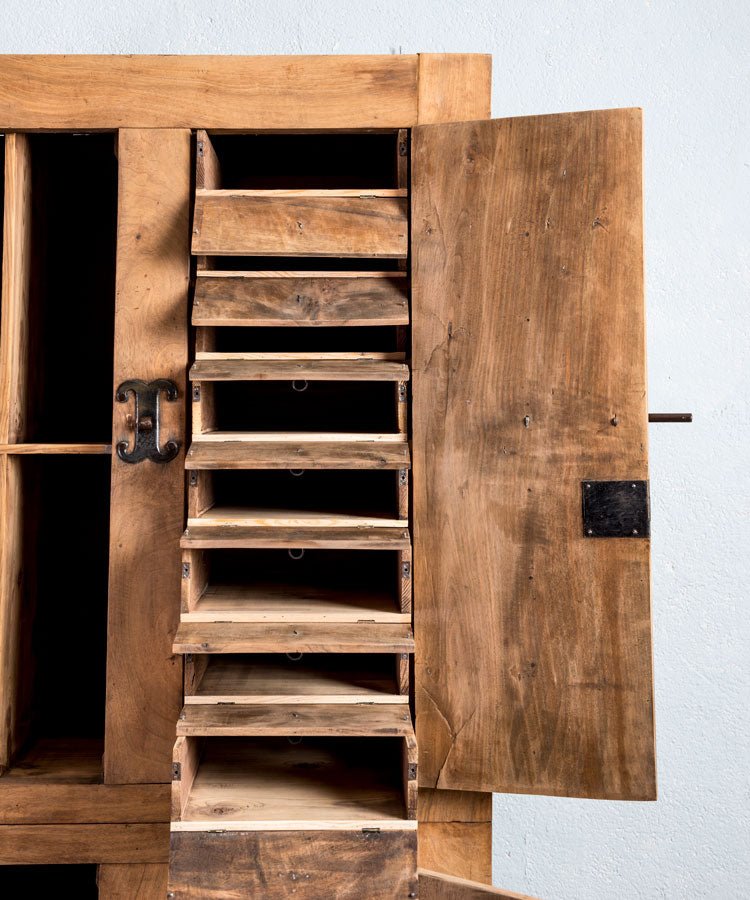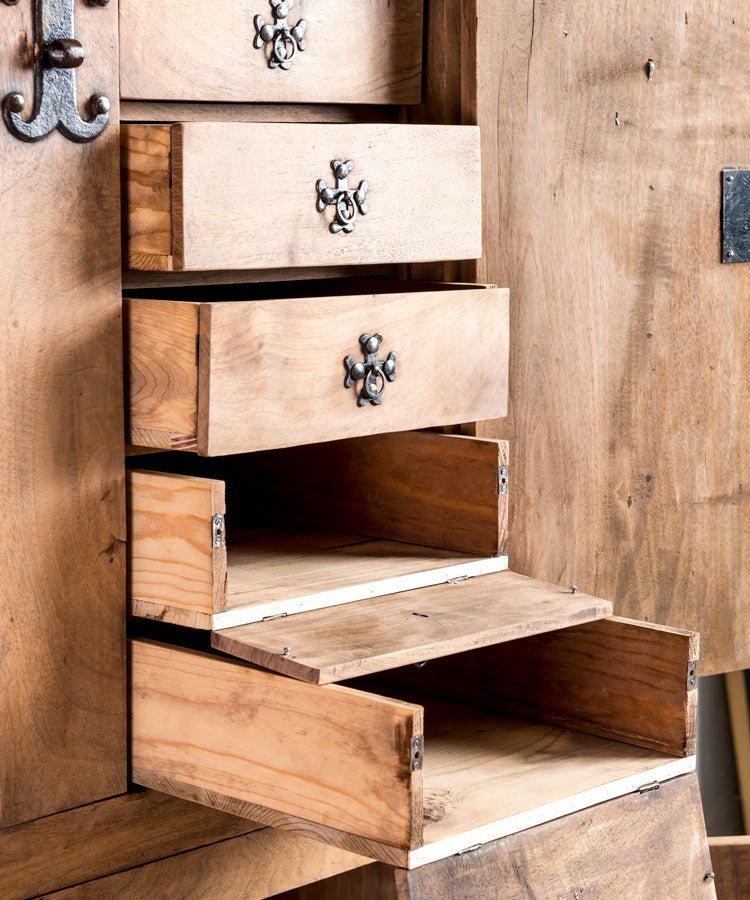 FREQUENT QUESTIONS
Is the furniture real furniture with history or is it new?

All our furniture and decorative objects are antique or vintage restored in our workshops, which makes them unique and exclusive pieces.
Can I change the color of a piece of furniture?

Yes, we can customize the color of a piece of furniture. This change requires an additional budget.
What is the color of the furniture?

The photographs are taken with neutral calibrated light and are environment photos to obtain an approximation to the color as real as possible.

Depending on the type and tonality of light to which the product is exposed, the color is perceived as a yellower, whiter or darker tone. This is what you will be able to observe once the furniture is placed in your home and exposed to light from your environment.

Can I receive my order later?

Yes, we can delay the shipping date up to a maximum of 90 days.

When you process the order, indicate in the Note of the same the estimated date in which you want us to send it to your home.

We will contact you well in advance to organize ourselves.
Can they leave the furniture inside the house?

Yes, as long as the access allows we will place the furniture inside your home. Check HERE our shipping conditions.
customer reviews




High quality products and great customer service. I would buy them again without hesitation!!! Thank you

Laura González
Very happy with the purchase. All as reported. Very attentive to the client. I recommend.

Sergio Martín
I have bought an armchair, happy with it. Very serious and formal people, exquisite treatment.
The attention, care, transportation have been perfect.
Thanks for everything

Manuel García
Excellent customer service. Highlight the flexibility to the needs and the great punctuality of delivery.

Louis Risk
Very serious company, great professionals, excellent and personalized treatment. They take care of even the smallest detail of their products.
greetings from ibiza

Joel Rodríguez