Wooden sculptures Quixote and Sancho
Regular price

Sale price

€1.890,00
Allow Don Quixote and Sancho to enter your home or office and transport you to a world of knights-errant and heroic deeds! These wooden carvings are a tribute to literature and a special decoration for any space.

Add a touch of history and fascination to your decor with these wooden carvings of Don Quixote and Sancho. They are more than just decorative objects, they are pieces that evoke the courage, imagination and adventurous spirit of these unforgettable literary protagonists.
FREE Shipping (Peninsular Spain)
Returns 14 days (Peninsular Spain)
100% Easy and Secure Payment
Recovering the past we take care of the future
DESCRIPTION

Immerse yourself in the epic atmosphere of the famous literary work of Miguel de Cervantes with these wooden carvings of Don Quixote and Sancho. Every detail of these figures has been carefully carved by hand, capturing the essence and passion of these emblematic characters.
These life-size carvings are ideal for decorating any space, from living rooms and libraries to offices and studies. Strategically placed in a prominent corner or as centerpieces in a themed collection, the figures of Don Quixote and Sancho become the focal point of attention and spark the imagination of those who behold them.
Material AND FINISH

Wood carvings.
Pickled green patina.
The carving of Don Quixote lacks fingers on the hand that holds the spear.
MEASURES

Quixote measurements: base 37 cm long x 30 cm deep x 170 cm high (220 cm high to the spear). Maximum width at elbow measurement: 54 cm.
Sancho measurements: base 39 cm long x 30 cm deep and height 148 cm. Maximum width in the belly area 50 cm x 50 cm.
SHIPMENTS

Free shipping. (Mainland Spain)
Shipped assembled. Make sure that the accesses to your home allow its placement inside.
Hurry, only 1 item left in stock!
Share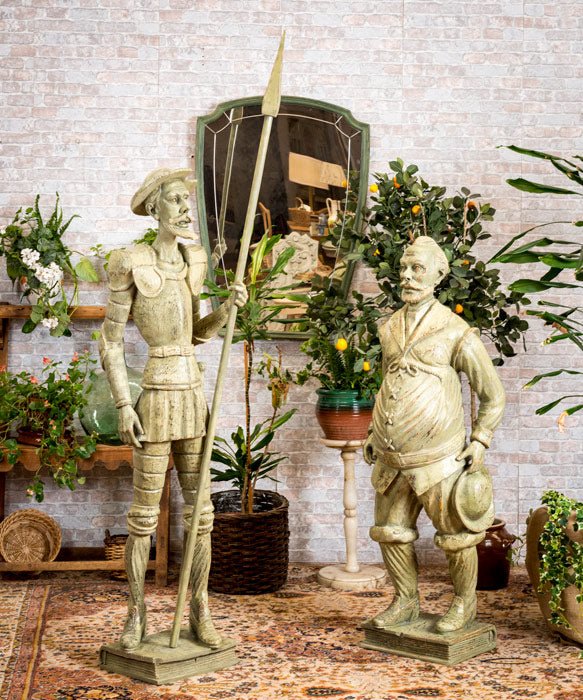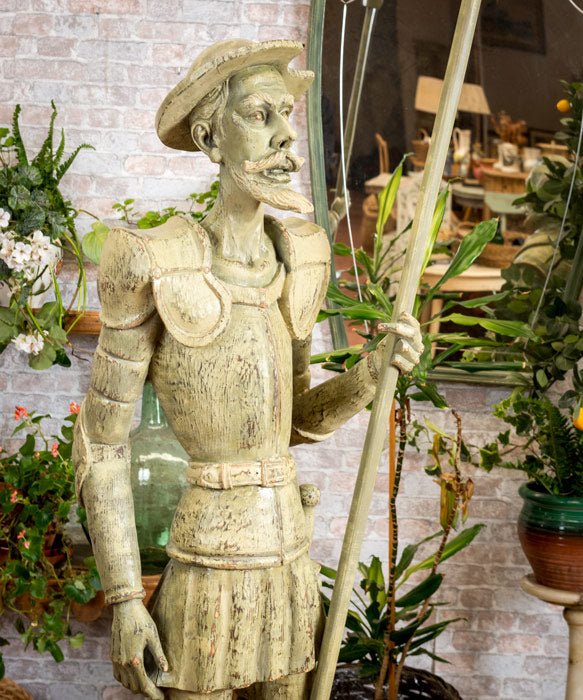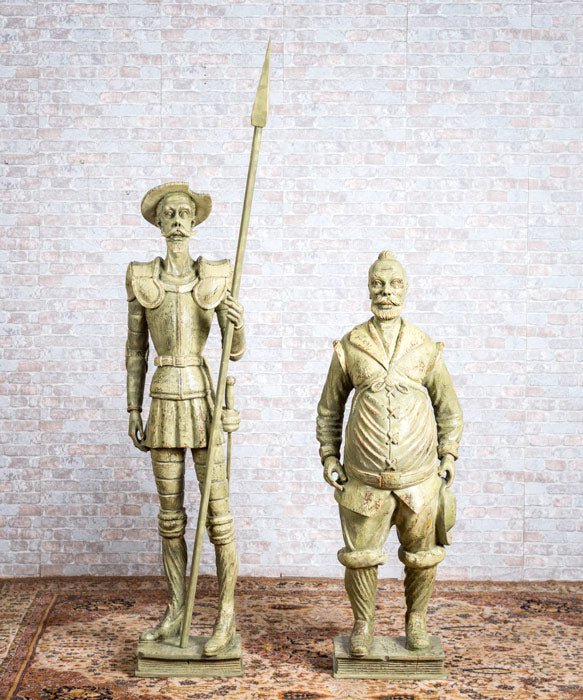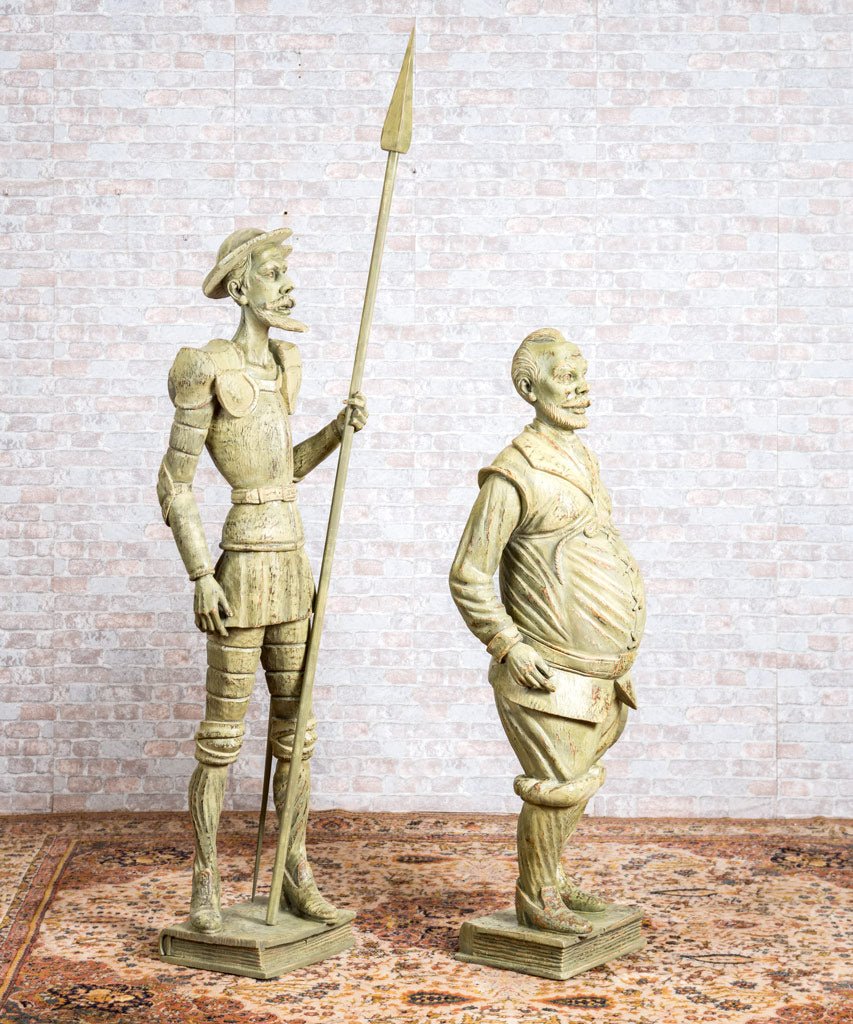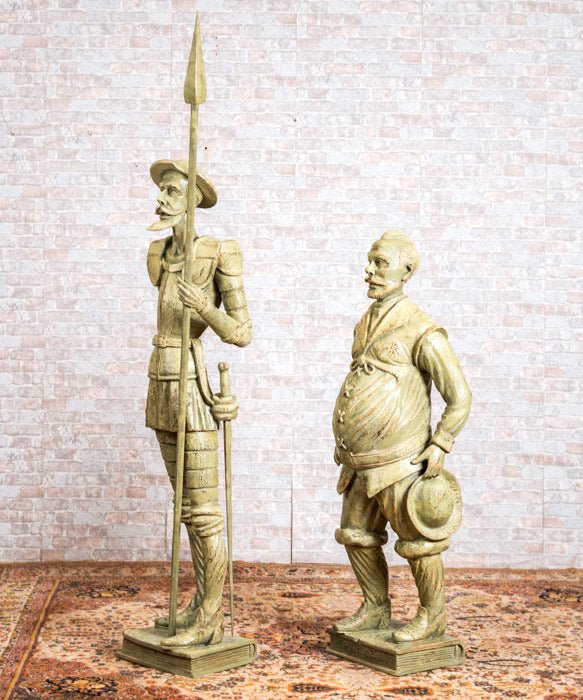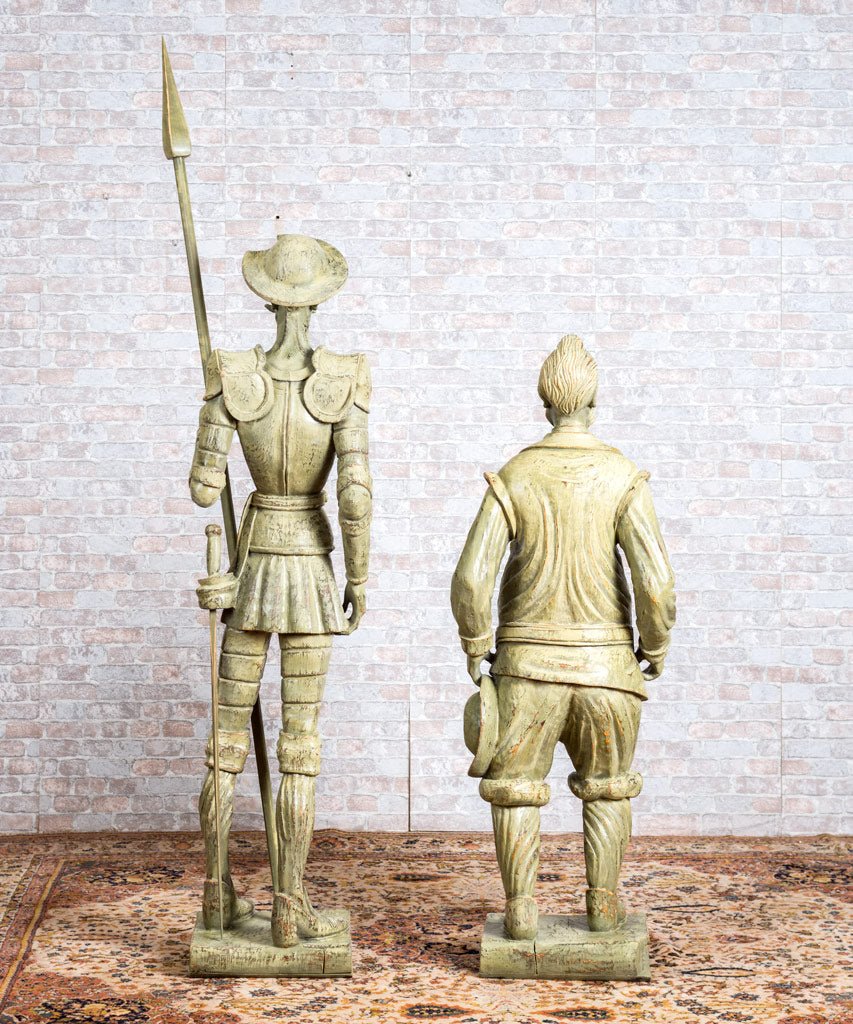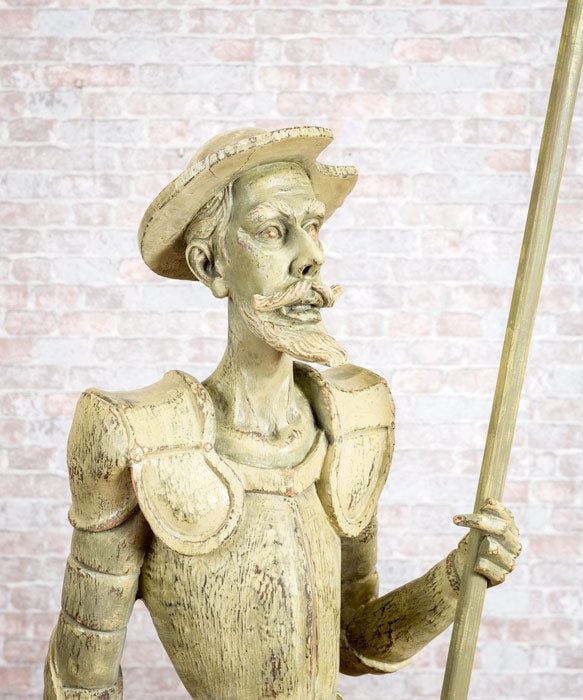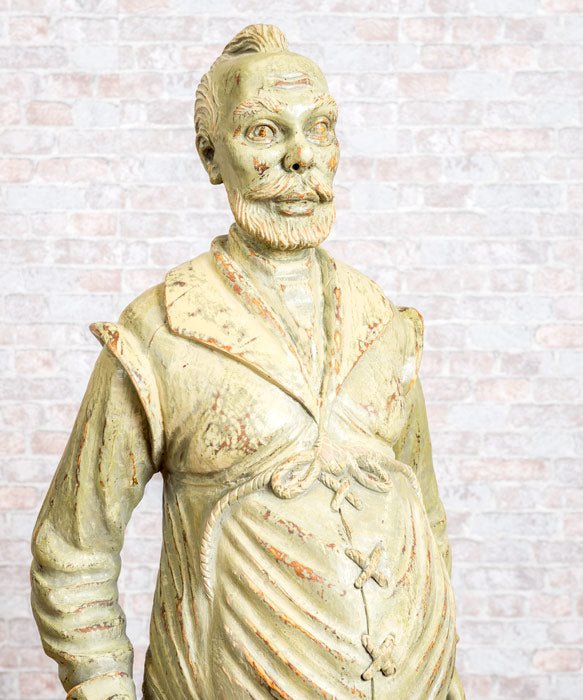 FREQUENT QUESTIONS
Is the furniture real furniture with history or is it new?

All our furniture and decorative objects are antique or vintage restored in our workshops, which makes them unique and exclusive pieces.
Can I change the color of a piece of furniture?

Yes, we can customize the color of a piece of furniture. This change requires an additional budget.
What is the color of the furniture?

The photographs are taken with neutral calibrated light and are environment photos to obtain an approximation to the color as real as possible.

Depending on the type and tonality of light to which the product is exposed, the color is perceived as a yellower, whiter or darker tone. This is what you will be able to observe once the furniture is placed in your home and exposed to light from your environment.

Can I receive my order later?

Yes, we can delay the shipping date up to a maximum of 90 days.

When you process the order, indicate in the Note of the same the estimated date in which you want us to send it to your home.

We will contact you well in advance to organize ourselves.
Can they leave the furniture inside the house?

Yes, as long as the access allows we will place the furniture inside your home. Check HERE our shipping conditions.
customer reviews




High quality products and great customer service. I would buy them again without hesitation!!! Thank you

Laura González
Very happy with the purchase. All as reported. Very attentive to the client. I recommend.

Sergio Martín
I have bought an armchair, happy with it. Very serious and formal people, exquisite treatment.
The attention, care, transportation have been perfect.
Thanks for everything

Manuel García
Excellent customer service. Highlight the flexibility to the needs and the great punctuality of delivery.

Louis Risk
Very serious company, great professionals, excellent and personalized treatment. They take care of even the smallest detail of their products.
greetings from ibiza

Joel Rodríguez