Antique carpentry bench from the 40s
Regular price

€820,00

Sale price

€820,00
If you are looking for a versatile piece of furniture that is characterized by the history behind it, that is the carpentry piece of furniture.
FREE Shipping (Peninsular Spain)
Returns 14 days (Peninsular Spain)
100% Easy and Secure Payment
Easy financing without expenses or interest
Recovering the past we take care of the future
DESCRIPTION

It comes from Cantabrian lands and its origins date back to the 40s.
Due to its design, it is a piece of furniture that will help you dress up any room in your home: in the hall, it will surprise your guests, in the bathroom it will bring warmth, in the living room it will create a cozy and comfortable atmosphere and in the garden it will create a magical atmosphere. .
Material AND FINISH

Its wooden countertop with that storage space known as a manger attracts attention. Furthermore, imperfections in its warm solid oak wood add to its appeal considerably.
MEASURES

Total measurements: 253 cm long x 52 cm deep x 70 cm high.
The bottom taking into account the side screw is 62 cm.
Countertop thickness: 5 cm.
Measurements of each manger on the countertop: 18 cm deep x 3 cm deep.
Measurements of the small lower shelf: length between 17 and 22 cm x 23 cm deep.
SHIPMENTS

Free shipping (Peninsular)
Hurry, only 1 item left in stock!
Share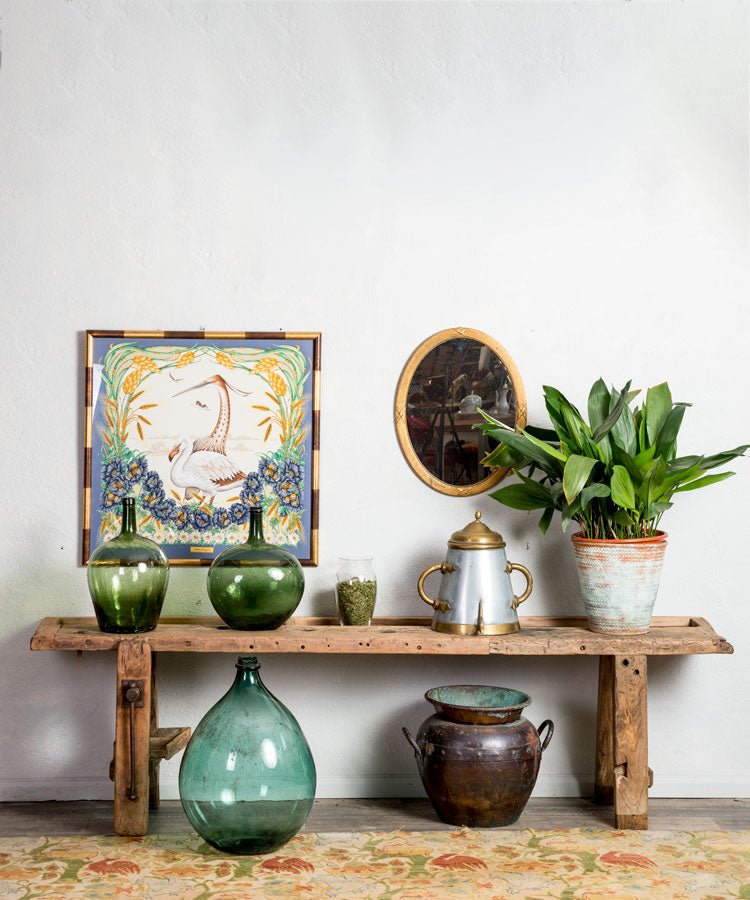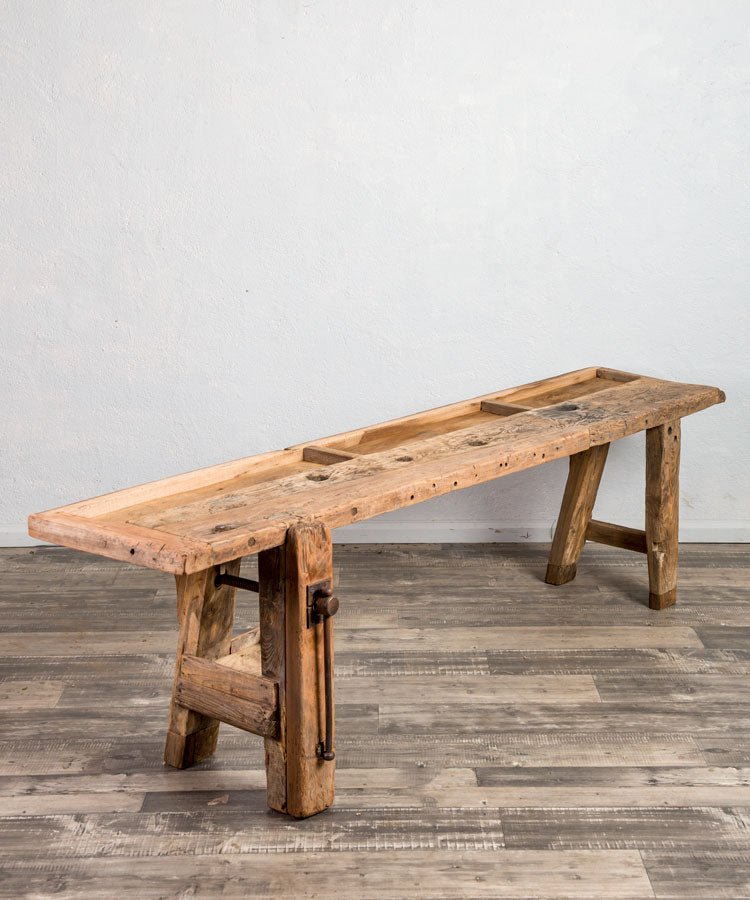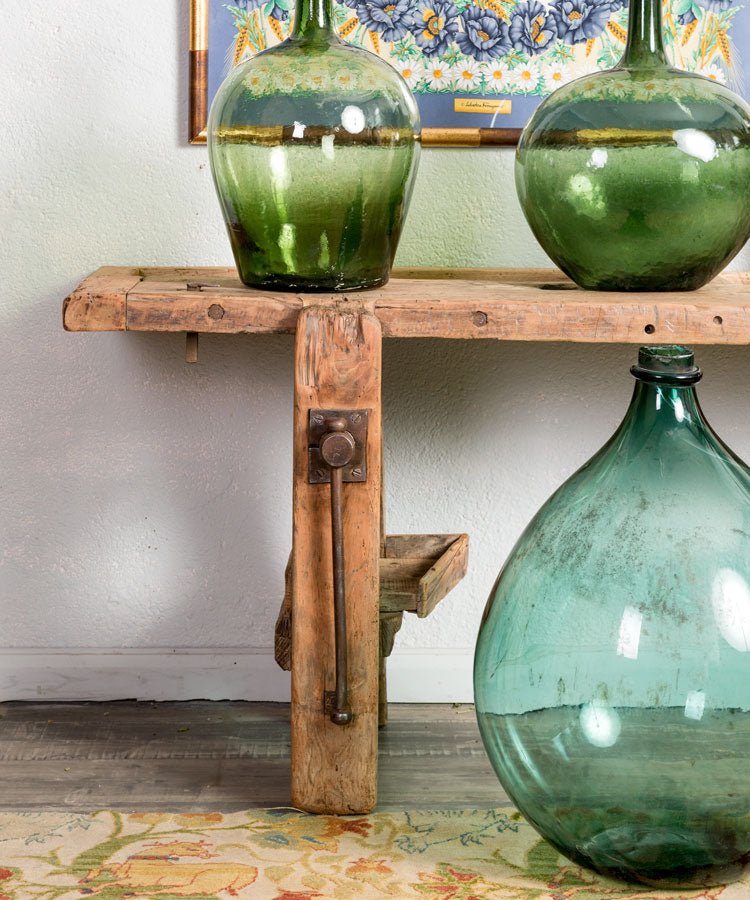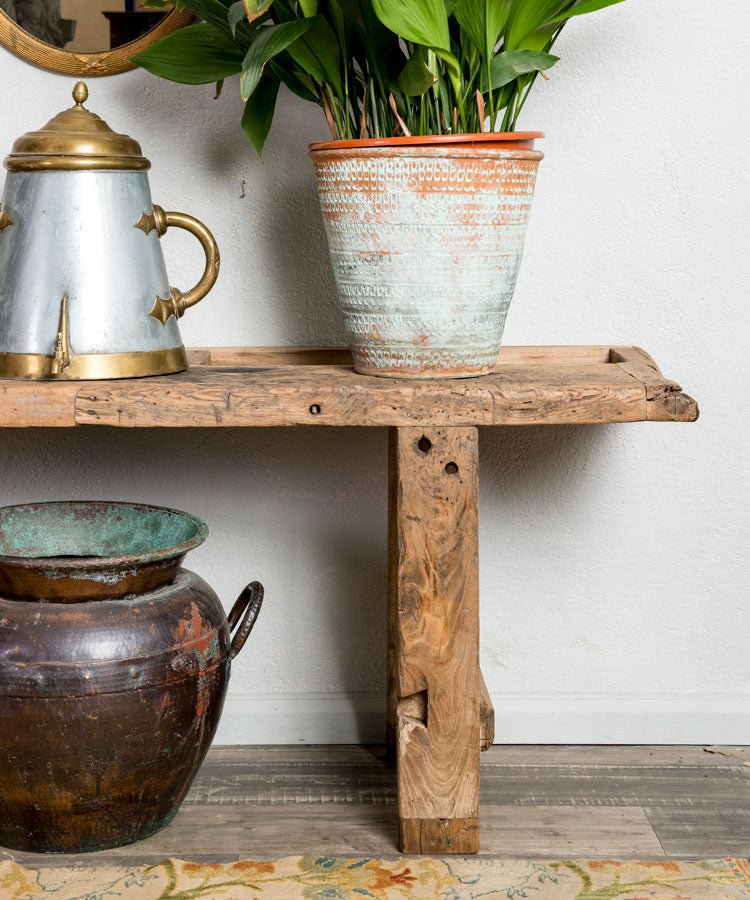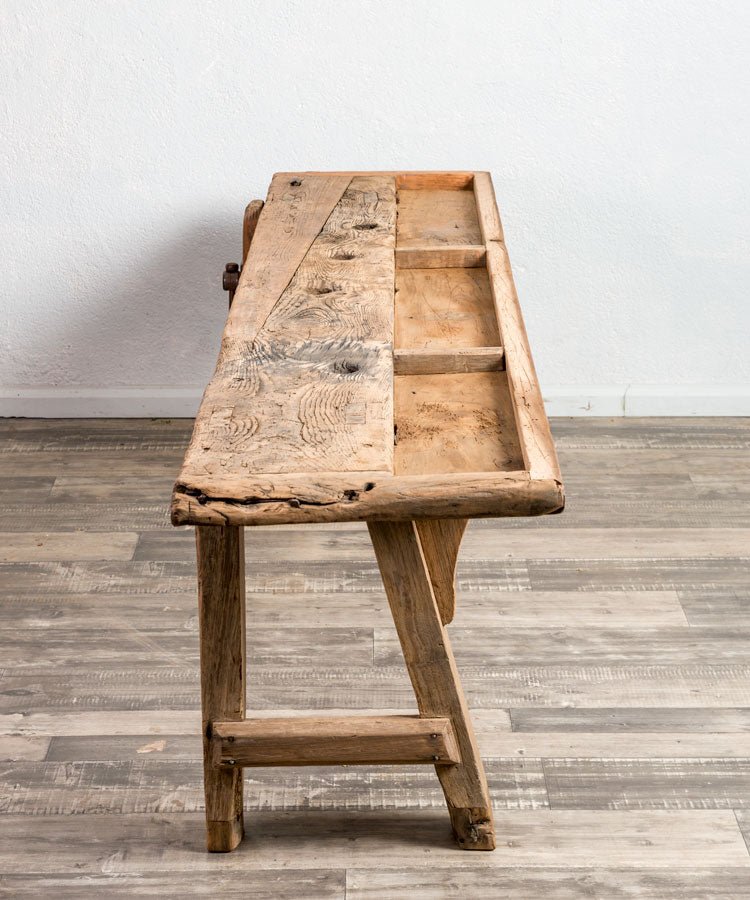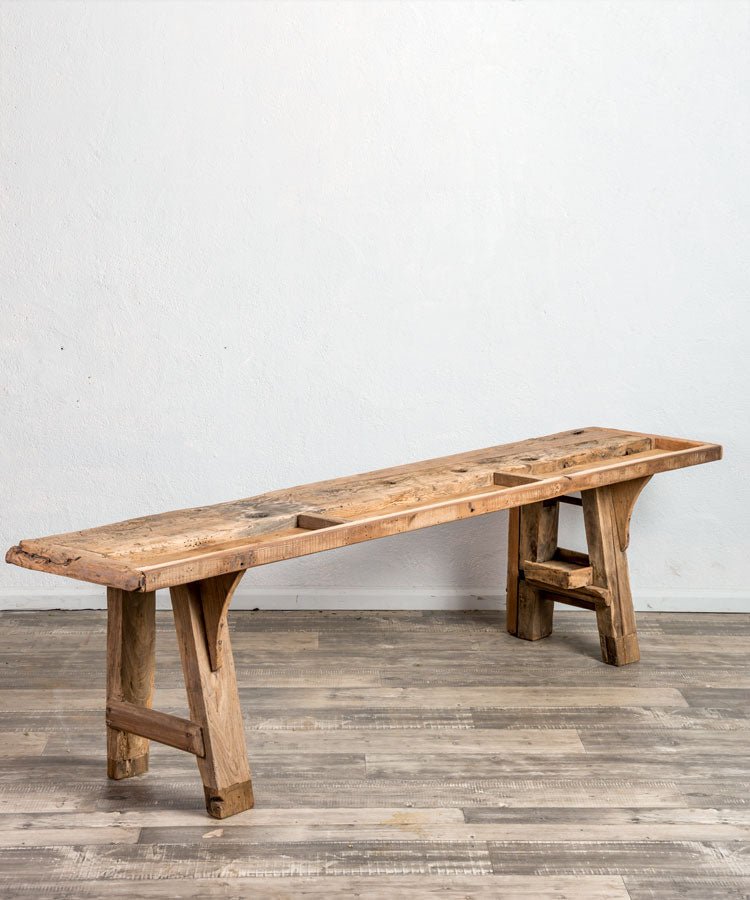 FREQUENT QUESTIONS
Is the furniture real furniture with history or is it new?

All our furniture and decorative objects are antique or vintage restored in our workshops, which makes them unique and exclusive pieces.
Can I change the color of a piece of furniture?

Yes, we can customize the color of a piece of furniture. This change requires an additional budget.
What is the color of the furniture?

The photographs are taken with neutral calibrated light and are environment photos to obtain an approximation to the color as real as possible.

Depending on the type and tonality of light to which the product is exposed, the color is perceived as a yellower, whiter or darker tone. This is what you will be able to observe once the furniture is placed in your home and exposed to light from your environment.

Can I receive my order later?

Yes, we can delay the shipping date up to a maximum of 90 days.

When you process the order, indicate in the Note of the same the estimated date in which you want us to send it to your home.

We will contact you well in advance to organize ourselves.
Can they leave the furniture inside the house?

Yes, as long as the access allows we will place the furniture inside your home. Check HERE our shipping conditions.
customer reviews




High quality products and great customer service. I would buy them again without hesitation!!! Thank you

Laura González
Very happy with the purchase. All as reported. Very attentive to the client. I recommend.

Sergio Martín
I have bought an armchair, happy with it. Very serious and formal people, exquisite treatment.
The attention, care, transportation have been perfect.
Thanks for everything

Manuel García
Excellent customer service. Highlight the flexibility to the needs and the great punctuality of delivery.

Louis Risk
Very serious company, great professionals, excellent and personalized treatment. They take care of even the smallest detail of their products.
greetings from ibiza

Joel Rodríguez